Welcome
We're a neighborhood bar, bistro, and casual hangout.
Located in Northeastern Ohio, James Place offers fine dining specialties from around the world.
In August of 2007, James Place opened primarily as a wine bar with a limited menu. Since then we have listened carefully to our customers suggestions and have evolved into a bar & bistro. Our priority is to provide our customers with the best overall experience, which includes gourmet food and drinks, great music, a soothing atmosphere and welcoming service.
Phone
(330) 562-1803
Location
271 East Garfield Road
Aurora, OH 44202
Hours
Mon CLOSED
Tues - Fri 3pm - 11pm
Sat 4pm - 11pm
Sun CLOSED
Happy hour
Tues - Fri 3pm - 5:30pm
$

18
Meat & Cheese Board
Served with Nuts and Crostini
$

10
Roasted Garlic Hummus
Served with Warm Pita Bread
$

14
Lobster Spring Roll
Napa Cabbage Slaw and Pineapple Thai Chili Sauce
$

11
Pulled Pork Lettuce Wraps
Pickled Vegetables, Chèvre, and Spicy Garlic Ginger Drizzle
$

14
Stuffed Avocado
Shrimp, Crab, Grilled Pineapple, Mozzarella, Provolone and Cilantro Lime Sauce
$

14
Tuna Tartare
Avocado, Cucumber, Onions, Peppers, and Tuna with Wonton Crisps
$

12
Calamari
Flash Fried, Tossed with Grilled Pineapple, and Finished with Chipotle Thai Chili Drizzle
$

11
PEI Mussels
Sautéed with Garlic, Lemon, White Wine, Butter, and Parsley
$

13
Shrimp Cocktail
Chilled Shrimp with House Cherry Cocktail Sauce
$

12
Summer Vegetable
Roasted Zucchini, Squash, Spinach, Peppers, and Onions with Roasted Tomato Garlic Confit, Mozzarella and Provolone
$

11
Margherita
Fresh Tomatoes, Mozzarella, Provolone, Parmesan, Garlic, and Fresh Basil
$

12
Italian Sausage
Garlic Confit, Caramelized Onion, Roasted Red Peppers, and Parmesan
$

12
Four Cheese
Fig Jam, Chèvre, Cambozola, Mozzarella and Provolone Cheeses, Red Onions, Almonds, Rosemary, and a Balsamic Reduction
$

14
Chicken Pesto
Pepita Pesto, Grilled Chicken, Onions, Roasted Red Peppers, Spinach, Mozzarella, Provolone, Chèvre and Spicy Honey Drizzle
$

14
Forenoon
Black Truffle Sausage Gravy, Eggs, Bacon, Mozzarella, White Cheddar and Scallions
$

7 /

$

11
Caesar
Romaine Tossed with Caesar Dressing, Shaved Parmesan and Crouton Crumb
$

11
Caprese
Roma Tomatoes, Mozzarella, Basil, Garlic Oil, and Balsamic Drizzle
$

6 /

$

10
House
Spring Mix, Cucumbers, Tomatoes, Onions, Parmesan, and House Vinaigrette
$

7 /

$

8 /

$

10 /

$

10
Add
Chicken, Shrimp, Salmon, Ahi Tuna
Entrees
Select Entrées served with House sides
$

30
Blackened Mahi
House Salsa and Guacamole
$

25
Zesty Ginger Salmon
Sweet and Spicy Honey Garlic Ginger Glaze
$

26
Trout
Cajun Potato Chip Crusted, Finished with Crumbled Dill Scallion Chèvre
$

28
Grilled Tomahawk Pork Chop
House Rub with Roasted Poblano BBQ
$

22
Chicken Caprese
Chicken Baked with Fresh Mozzarella, Sliced Roma Tomatoes, and Pepita Pesto
$

39
8 oz. Filet of Beef
Finished with House Summer Black Truffle Butter
$

15
Grilled 8oz. Angus Burger
Roasted Garlic White Truffle Aioli, White Cheddar, Spring Mix, Tomato, Red Onion, Pickle, and House Cut Fries
$

30
Pasta La Mer
Shrimp, Crab, and Lobster in a Smoked Gouda Cream Finished with Crumbled Chèvre, Scallions, and Panko Crumb
$

28
Chicken and Gnocchi
Grilled Chicken, Spinach, Onions, Pineapple, and Roasted Red Peppers in a Creamy Parmesan Guacamole Coconut Cream
$

18
Pasta Primavera
House Roasted Vegetables Tossed in Tomato Garlic Confit Oil with Penne and Asiago Parmesan
$

7 /

$

8 /

$

10
Add
Chicken, Shrimp, Salmon
........Chef Andrew Wilk........
Gluten Free, Vegan & Vegetarian Options Upon Request. In order to better serve all of our guests, please no separate checks for parties of six or more. Consuming raw or undercooked meat, poultry, seafood or eggs may increase your risk of foodborne illness.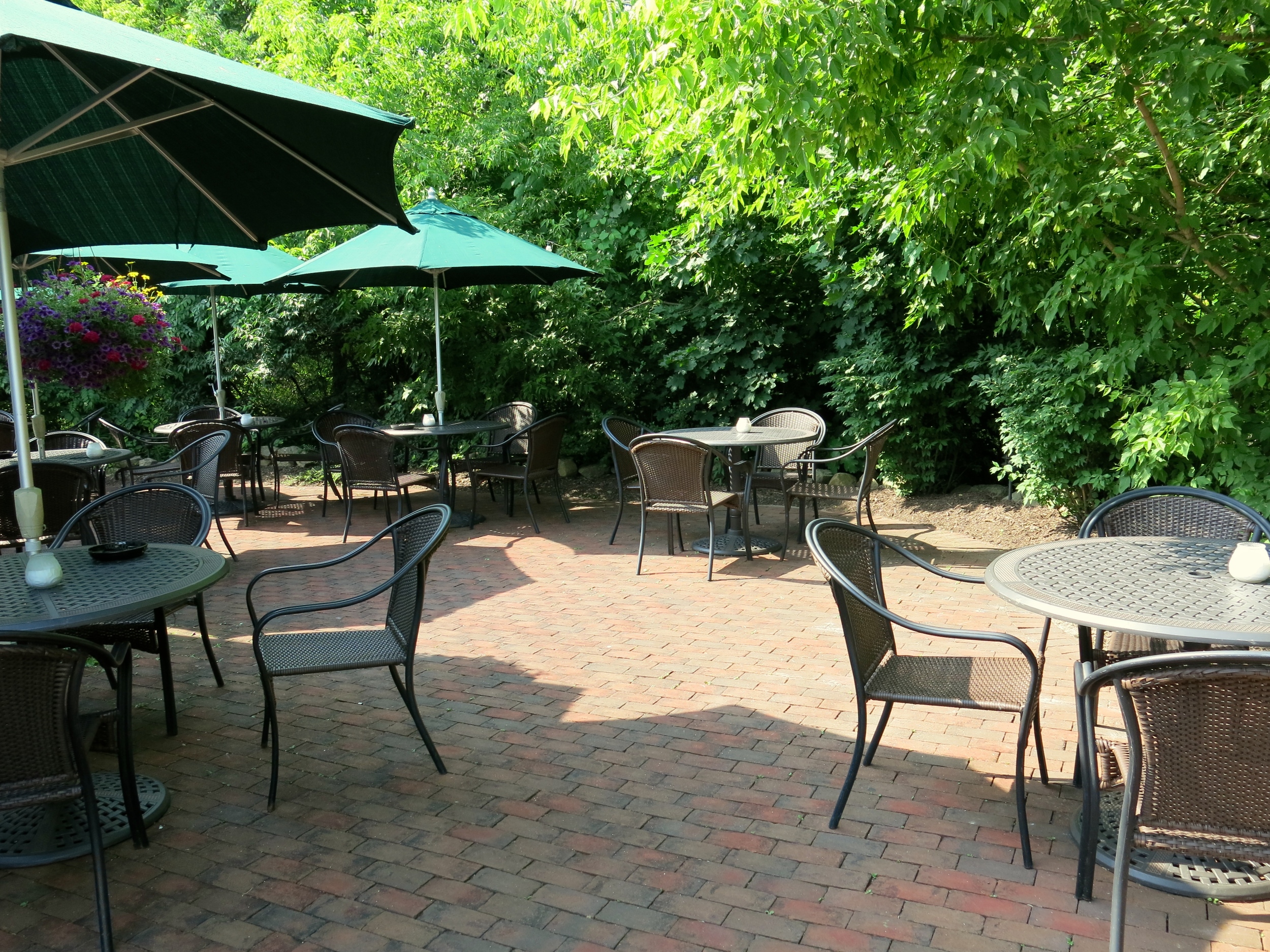 Private events and reservations
Now available
James Place is available for private gatherings of all types. In addition to our main room, we have a private dining area which can accommodate up to 18 people for a special dinner or meeting. During summer months we have a beautiful brick patio nestled in the woods featuring live music. If you prefer, we can bring James Place to you and cater your special event on location.

Email jamesplacewinebar@gmail.com or call
(330) 562-1803 to book.